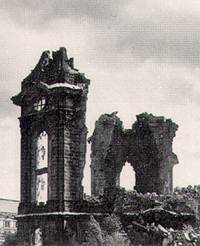 The Church of Our Lady was destroyed in 1945. It's recontruction began in 1993

For two centuries, the stone dome of the Church of Our Lady formed the crown of the city of Dresden's magnificent silhouette. On February 25, 1945, it collapsed at about 10 o'clock. In teh two previous days, the city centre of Dresden had perished in the firestorm of the Second World War.


The world was deprived of an ingenious edifice.
To the Christians it was the most perfect church of Protestanism and to the inhabitants of Dresden and their friends, it formed the crown of their image of the city.



The immediate neighbourhood of the most importent Protestant church edifice in Germany just as well as the Catholic court church built shortly afterwards is the expression of Saxon liberalism and tolerance.
Tolerenz: This means respecting and accepting different persons and those who think differntly. So, we can say rebuilting it also stands for foundations of our public life and for reconciliation and understanding among the nations.



Reconstruction began after archaeologists cleaned the ruins of rubble in 1993 to 1994



Reconstructing the Church of Our Lady true to the original is one of the most exciting architectural adventure of the present day.

Make the Church of Our Lady your own personal edifice. You help with the reconstruction of the Church of the Our Lady when you acquire one of these uniquire relief images made of 925/000 Sterling silver from a limited first edition of altogether 400 pieces including a certificate.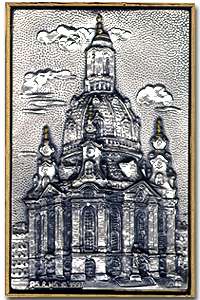 Three design of the relief portrait of the Church of Our Lady with a certificate.